Italy maintained their 100% record in Euro 2020 qualification as they secured a 2-1 victory over Bosnia and Herzegovina in Group J, but as expected, they were made to work for it.
Following the 3-0 victory in Greece, Azzurri boss Roberto Mancini chose to make three changes to his starting XI for Tuesday night's game. Gianluca Mancini stepped in at right back while Federico Bernardeschi and Serie A Capocannoniere Fabio Quagliarella were introduced to freshen up the attack.
Mancini's men controlled the opening stages and quickly set about dominating the ball. Italy's shape in possession is becoming increasingly recognisable. The back four transitioned into a back three when Italy had the ball, a tactic favoured by Mister Mancini. This shift saw left-back Emerson Palmieri position himself high alongside Italy's attacking line while on the opposite side, Gianluca Mancini sat deeper, forming part of the three-man backline with centrally placed Leo Bonucci and Giorgio Chiellini to the left.
Lorenzo Insigne occupied a position between the opposition left-back and left centre-back in order to free space for Emerson and on the right flank, Federico Bernardeschi isolated himself high and wide. The midfield trident worked in familiar fashion with Marco Verratti and Jorginho in close proximity to the ball, with NicolòBarella positioning himself ahead of play.
In Saturday's victory, the Azzurri overloaded the left half of the pitch in order to use Emerson's speed in-behind the Greek defence, but unlike Greece, Bosnia had done their homework. Robert Prosinecki's team did not allow themselves to get drawn in and exploited. Covering spaces using positional defending prevented Italy from playing in-between or over Bosnia, providing Miralem Pjanic and co a platform into the game.
The away side began to look increasingly dangerous as the first half wore on, the game plan was working excellently. Bosnia committed numbers defensively to their right and were happy for Italy to probe away in that area in the knowledge that the Azzurri would not hurt them by switching play. Italy's right side was not equipped to damage Bosnia. Between the deeper positioned Mancini and the skillset of Bernardeschi, any quick switch would be comfortably defended.
The attacking strategy that worked decisively a few days ago was now being used against Italy. The tandem of Verratti and Jorginho are aesthetically pleasing, but turn over possession and play beyond them quickly then Italy are in real danger. It was theme throughout the game and Bosnia offered a constant threat on the counter as a result. With Barella placed beyond the ball, this Italy midfield lacks speed in transition, leaving a one-paced defence exposed. There were warnings prior to Edin Dzeko putting his team ahead around the half-hour mark as he rounded off a slick Bosnia move.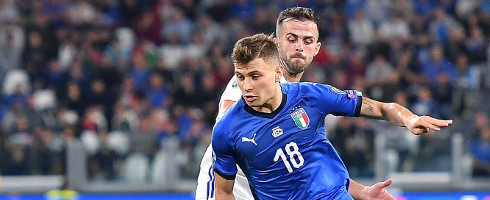 For the many good things Mancini has achieved in short time in charge, this first half in Turin was not one of them. Quagliarella has many qualities but is no longer a forward that fits playing in a 4-3-3 and the decision to play the previously mentioned Mancini and Bernardeschi in those specific roles was questionable.
The Azzurri were being tested and Mancini – to his credit – responded instantly. A half-time change saw Quagliarella removed for the pacey Federico Chiesa, a change that resulted in Bernardeschi moving to a False 9 role with Chiesa on the right wing.
It was a play that worked instantly. During the opening 45 minutes Italy lacked dynamic movement going forward and as a result failed to open up spaces or penetrate the Bosnian defence. However, Mancni's changes addressed that. Bonucci's raking pass found Chiesa in behind the full-back where he was able to win a corner. From the resulting kick, Insigne produced a moment of a real quality. Bernardeschi's pinpoint cross was weighted perfectly and as the ball dropped to Italy's Number 10 on the edge of the box, he responded by hammering home a superbly executed volley.
Bosnia continued to carry a threat, but Italy began to ramp up the pressure on their visitors. The four-time world champions were now testing their opponents, stretching the pitch and building attacks through a variety of avenues. Another positive substitution followed, a more orthodox in right back in Mattia De Sciglio meant both of Italy's full backs were taking up positions in the attacking third.
It was Italy's pitch occupation that aided their winning goal with Insigne yet again playing a key role. The Napoli attackers positioning allowed Bonucci to find him beyond the defensive line with a long diagonal ball. Using the space well, Insigne dribbled into the box before picking out the run of supporting teammate Verratti. The PSG midfielder coolly passed the ball into the corner of the net to finish off a neat move and secure his country the win.
Italy chief Mancini deserves praise for the performances of the aforementioned Insigne and Verratti. Both are players that have been misused and criticised under previous regimes, with that being especially true of Insigne. With two goals and an assist during this international period, Insigne has begun to silence his critics and if he can maintain this kind of form for his country, then it will come as a huge boost to the Azzurri.
Overall these two outings have ended what has been a positive season for the Azzurri. Mancini continues to make progress with this group of talented players and this latest game against Bosnia will have given the Italy tactician further awareness of where this team needs to improve and adapt. The hope that the boys in blue can make an impact in next summer's tournament continues to grow.